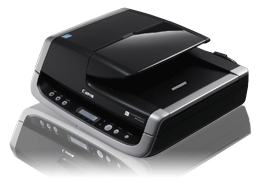 Remember when buying decisions were much simpler? When you had, at most, two options to choose from, and often only one, so the decision was made for you.
Now, no matter what the product, you have many to consider. Different prices, different features, different pros and cons. And that can be a good thing providing you know exactly what you're looking for, and what you need it to do.
Buying a Scanner
Take scanners, for example. As more businesses make the move to a full or partial paperless existence, a reliable scanner is a must for the modern office. Walk into an office equipment store, and you'll be faced with dozens of styles and sizes. Aren't all scanners essentially the same?
Yes. And no. All scanners are fundamentally identical in that they take a scan of a physical document or image and save it is a digital file. But that's where the similarities end. Know exactly what you need it for, and you can find the scanner that perfectly fits your needs.
The Details Are In the Resolution
Image resolution refers to the amount of detail contained in the scanned file. If you're mainly using your scanner for paper documents, then a ppi (pixels per inch) of between 200-400 is sufficient. If you're going to be scanning a lot of images, though, you'll probably want at least 600 ppi. Most scanners have a resolution of 600 ppi or more, so they can handle the majority of scanning needs.
Size Matters
Consider the documents and items you're going to be scanning: what size are they? Letter, legal, business cards, receipts…some scanners can accommodate them all, while others are good for just a few. A flatbed scanner is typically ready for letter-size, but not legal.
Save Yourself Time
Some scanners can handle one page at a time, while others can automatically feed pages in one after another. If you know you'll be scanning many pages, you might want to consider something with an automatic document feeder (ADF). You load it up, start the feed, and move on to something else.
And what about double-sided pages? Do you frequently see documents and files that use both sides of the page? If so, you'll want to look at scanners with duplex scanning capabilities. These can scan both sides.
---
A Scanner For Your Needs
Finally, examine your average volume, available space, and business lifestyle. Scanners fall under three main categories: handheld/portable, flatbed, and sheet-fed. Depending on your particular business needs and setup, only one of those will be perfect for you. Every manufacturer will provide at least a few options in each category, so look closely at what's available. Canon scanners, for example, are renowned for their performance and image quality, and they come in a wide range of types and sizes.
Portable Scanners
If you're frequently on the road, away from the office, or work where space is at a premium, a portable or handheld scanner might be the way to go. These are small (typically the size of a box of spaghetti), easy to plug in when needed and put away when done. Most are USB powered and easily fit in a briefcase or bag for when you're on the go. Two great Canon options include:
Canon imageFormula P-208. This portable scanner retails for only $125, but has many of the features of more expensive ones. An adjustable size feeder, front-feeding 10 page ADF, and high speed duplex scanning provide everything you need.
Canon imageFormula P-215II. Larger and more expensive at $250, the P-215II is a bit bulkier but still provides adjustable paper size, top-loading document feeder, and duplex scanning capabilities.
Flatbed Scanners
Flatbed scanners take up much more room and are far from portable. They have a flatbed scanner under a hood, making them ideal for scanning delicate originals and pages from bound books and manuals, in addition to general documents one page at a time, up to letter-size. If you have the space, and your volume is low, a flatbed may be the right choice.
● Canon CanoScan LiDE 210. Well regarded and frequently ranked in the "best flatbed scanner" lists, the LiDE 210 retails for about $90, making it a very budget-friendly option for anyone looking to scan the occasional document, image, receipt, or page from a bulky book.
Sheet-fed Scanners
These are the workhorses of the business world. A sheet-fed scanner is ready to tackle many pages, and all without having to load each page individually. Often referred to as production or departmental scanners because the can handle a much higher scanning volume, these machines are more expensive, but practically pay for themselves in the time and effort they save.
Canon imageFormula DR-C125. This top-loading scanner takes up little room, but can handle 25 pages per minute (ppm) from its 30 page automatic document feeder (ADF). Thick or thin pages, business cards, driver's licenses are all handled with ease. This duplex capable scanner retails for about $550.
Canon imageFormula DR-2020U. An incredibly versatile scanner that includes a 50 page ADF, a 15-card business card feeder, and a flatbed scanner underneath, the DR-2020U includes the best of everything. Speeds of up to 20 ppm, fully duplex capable, and all for under $600.
Canon imageFormula DR-C130. The C-130 is great for when you have longer-than-usual documents that need to be scanned. A 50 page ADF and speeds up to 30 ppm, it can make short work of large batches. Roughly $500.
Canon imageFormula DR-3080CII. This one has a very large 100-page ADF, and with speeds topping out at 32 ppm, it can handle high volume in record time. If you're frequently scanning large batches, the DR-3080CII is an excellent and hands-free choice. More expensive at $1300, but well worth the investment if you have the volume to justify it.
A scanner that fits your requirements (average size, resolution) and volume is one of the most crucial pieces of equipment in the modern – and increasingly paperless – office. Interested in finding our what scanner is recommended for you?  Contact our team.