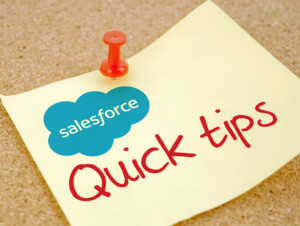 You've no doubt heard of Salesforce, even if only by name. It's the world's most popular customer relationship management product, allowing users to track and access sales, marketing, and customer service in one convenient place. No hardware. No software. Just the power of the cloud.
There's the Sales Cloud, the Service Cloud, the Data Cloud, the Collaboration Cloud, the Custom Cloud, and the AppExchange (web app marketplace with over 2200 entries). All parts integrate and sync with each other, creating powerful work and business flows. Over 100,000 companies use Salesforce to work faster, better, and more collaboratively. In fact, a Bluewolf survey of users found that over 90% of them rated Salesforce as more important than it was last year.
If there is a complaint, though, it's that Salesforce is too feature-rich, and the learning curve can be steep. Built to save time, it can take a while to wrap your head around everything it can do.
Want a few time saving tips for Salesforce? Happy to oblige…
1. Email to Salesforce
There are other ways to do this, but Email to Salesforce is probably the easiest and most straightforward. Salesforce works best when everything is collected, organized, and collated in one spot. And if you can do that automatically, so much the better.
The feature (which must be activated by an administrator) provides each user with a unique "Email to Salesforce" address. Anytime you compose, reply, or forward an email using your company or third-party email address (like Gmail or Yahoo!), include your "Email to Salesforce" address in the BCC: field. The message will be automatically added to the appropriate account's Activity History or My Unresolved Items list, depending on your specific configuration. Salesforce will search through the body of the email, looking for a record ID, and file the message within that record. Filing and logging all email is necessary, but time and labor intensive. Let Salesforce do it for you.
2. Chatter Publisher Actions
Chatter harnesses the power of social media for the business world. It allows colleagues and co-workers to sync and collaborate in real-time. Connect and get instant notifications from the contacts in your network.
With actions enabled, any discussion, decision, debate, or activity made within Chatter will be automatically added to the corresponding record home or detail page, Chatter tab, or Chatter group. Standard and custom actions allow users to collaborate within Chatter, and update or create the necessary record from directly within the platform. Log calls, add a contact, update an account, or implement an action…all without having to switch between screens and platforms. Create, deploy, update, support, and integrate.
3. Email Templates
Sending an email from within Salesforce is a great time saver unto itself. Even better, the program allows you to create and edit email templates to be used over and over again. You likely send the same sort of communication on a regular basis, so a template is both fast and convenient. Salesforce includes functionality for four different kinds of template (depending on your skill set and permission):
● Text
● HTML with letterhead
● Custom HTML
● Visualforce
Public templates (for those with permission to edit them) are available from Setup – Communication Templates – Email Templates.
For everyone else, access via Setup/My Settings – Email – Templates. You can edit, delete, or create.
4. Automatically Email Sales Reports
Salesforce is unparalleled at keeping track of sales stats and reports. It's the foundation of the entire platform.
With a few simple clicks, you can configure the system to automatically send a sales report to an entire sales team. Individuals can compare their performance to colleagues, which creates both transparency and competition. Choose the account/report, designate recipients, and set the frequency (daily, weekly, monthly). Set it and forget, but know that the entire team, division, or company will be up-to-date.
5. Third-Party Integration
Salesforce plays well with a very wide range of third-party apps and services. A few minutes of saved time per day quickly becomes a few hours or days per year. Find 3-4 products that can each save 5-10 minutes (or more), and those numbers can get very big.
Take ccScan, for example. This software allows you to scan and import documents directly to Salesforce at the push of a button. Instead of scanning a paper document, naming the file, opening Salesforce, identifying and navigating to the appropriate record, and uploading the scanned file, ccScan does it all for you. Automatically. It can populate entry fields, locate corresponding folders, and do it for hundreds or thousands of documents at a time.
And ccScan is only one of thousands of products built to integrate seamlessly with Salesforce. To truly optimize your experience, you owe it to yourself to investigate the options out there. The Salesforce AppExchange is a great place to start.
Salesforce is a fantastic platform. Make it even better, faster, more robust by tweaking and using these simple "tricks". Each minute you save is another minute you can use to advance your company and career.  Have a few tips for Salesforce you'd like to share?  We'd love to hear them! Please email us at  Sales@CaptureComponents.com or contact us directly