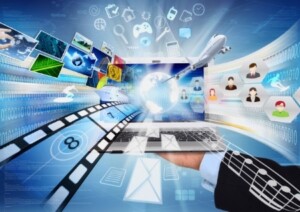 As the saying goes, there's an app for that. We live in a truly connected and digital world, with more and more of our personal and professional lives existing online in some form or another. And while the long-term effect of that is open to debate, there's no denying that it has made our lives much more convenient and easier to manage.
The same is true of running a business. We could write a hundred different blog posts on a hundred different aspects of business, and we still wouldn't run out of apps, software, and programs to discuss. And for each one that rises to the top in its particular niche, there are usually dozens jockeying for position just beneath it. Some are free. Some require a nominal fee. And still others are available only to those with a sizeable budget.
Apps and programs come in all sorts of prices, platforms, and function, but virtually anything you do for your business could likely be done simpler by utilizing one of them.
Here are the first six (nine counting a few where we included two options) top apps for your professional toolbelt.
Email Management
Sanebox is a handy little program that can help sort through the hundreds of email letters flooding your inbox each day. You lose hours each week just sifting through them, but with Sanebox, you don't have to. Working with any email program or provider, and across any operating system or device, Sanebox learns to recognize important vs. unimportant letters based on your past interaction (the longer you use it, the better it gets). It moves unimportant letters out of your inbox and to a different folder. It even skims the unimportant ones and sends you a written summary of them at a set interval. You can quickly unsubscribe from annoying mailing lists, hide email for a set period of time, and store large attachments in the cloud to free up space. The service isn't free (anywhere from $7-36/month or $59-299/year depending on the features you want), but once you try it, you'll wonder how you lived without it.
Task Management
So much to do. So little time. Both Todoist (Android, iOS, Mac, Windows, browser extension, email integration, and on the web) and Any.do (Android, iOS, Chrome browser extension, and on the web) are great services to help keep track of what you need to do, and when you need to do it. You can schedule by specific date, today, tomorrow, upcoming, or sometime, allowing you to get items without an actual deadline on your radar and part of the big picture. Create your to do list, get in-app reminders, and scratch off items as you complete them. Todoist also has a Premium upgrade ($31/year) that provides additional features like productivity tracking, mobile and email reminders, notes, attachments, and custom filters. Never lose track of what needs to get done again.
Communication
The internet has made communication instant and accessible. You can write, speak, and even see to someone virtually anywhere on the planet. Skype and Hangouts have made both audio and video communication fast, affordable, mobile, and effortless. Communicate with members of your staff, no matter where they are working. Set up conference calls to collaborate with team members. Respond to customer questions and complaints. Much of what you can do with these programs is free, and the functions that actually require payment are very affordable.
Accounting
Freshbooks is your one-stop accounting and invoicing solution. With it, you can invoice clients, keep track of time spent on projects, track expenses related to a particular job or client, and accept online payments – and everything is available to you anywhere you have an internet connection. Their free plan is capped at only one client, but it is full-feature and allows you to get a feel all it can do. The paid plans start at $19.95/month. Over five million users have made Freshbooks the de facto leader in cloud accounting.
Email Communication
Far from being dead, email remains the best method for engaging and communicating with your clients and customers. Mailchimp and Aweber give you unparalleled control over your email communication and marketing campaigns. Capture email leads via a sign-up widget on your website, manage those various lists, and create visually stunning letters and pages with their available templates. Automate certain steps of your communication chain with autoresponders. Track how each campaign is performing with native analytic functions. Mailchimp is the cheaper of the two (its free plan includes up to 2000 subscribers), but AWeber is widely considered to be the industry leader.
Project Management and Collaboration
Gone are the days of having to schedule team meetings whenever everyone involved was able to get together in the same place at the same time. You could still do that, sure, but the internet has made it completely unnecessary. Basecamp (Android, iOS, Mac, Windows, and via email) facilitates digital collaboration on every level – sync a task, project, or account calendar with all members, instantly share completed work, give feedback and notes to team members, upload files for all (or just a few) to see and use, create group to do lists. And because it's in the cloud, everything is available to you wherever you find yourself…at your desk, at home, out with a client, on the road. Anywhere. Instant collaboration. Immediate feedback. They even offer weekly FREE classes on how to utilize Basecamp to its maximum potential. Monthly packages start at $20. There is so much more we want to share with you, but you can see the potential already. Save time. Save money. Fast. Convenient. Anywhere accessibility. It's a mobile world out there…take advantage of it. And stay tuned for another installment of the professional tool belt sometime in the coming weeks.
In the meantime, what professional apps or programs can't you live without?
Leave your suggestions in the comments.