You're aware of the cloud. It's ubiquitous. Box, Google Drive, Dropbox. More and more services provide a cloud-based version, or exist exclusively on the web. Having your important information available online has its share of benefits: mobility, accessibility, convenience, collaboration.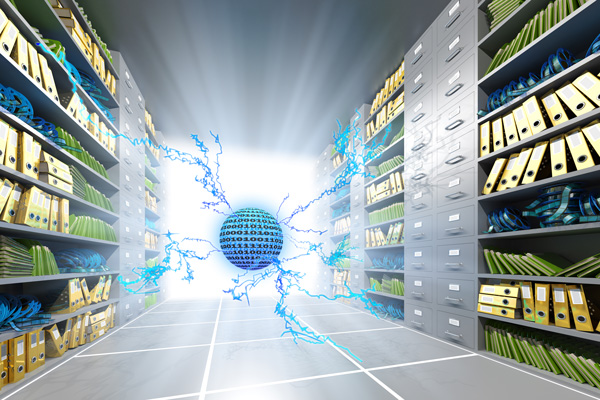 But still you're not convinced. It remains a paper world in your mind. At least in part. You've resisted the digital revolution, and see glaring problems with document capture software. And you have your reasons.
But do they really pass the acid test?
Security Issues
The web is subject to attacks, viruses, and malware. Files in the cloud could be accessed by anyone with a mind to do so. My confidential documents are safer under my watchful eye, secure under lock-and-key on my premises.
The reality? Modern document scanning software has some of the strongest security protocols on the internet. Built-in AES encryption, SSL (secure sockets layer…essentially a private and secure link between two points) transfer to your cloud service, password protected dashboards, and native .Net encryption make the possibility of someone laying eyes on your data extremely unlikely if not outright impossible. It would take 1 billion billion years to crack AES-128 with a brute force attack.
Can the same be said for the filing cabinet in your office? Transferring your files to the cloud via document capture software gives you greater control, easier compliancy, and better overall security.
Time-Consuming
Transferring all those paper documents to the cloud would take forever. Place the paper on the scanner, scan it, name it, and copy it to the appropriate digital folder. Separating files and accounts. Repeat ad nauseum.
The reality? Document capture software is all about advanced capture these days. Automatic advanced capture. The programs can automatically identify and classify files without human intervention once you set up the job. They can extract data, add descriptions and tags, and create file and folder names…all on their own. Save those recurring scan or import jobs, and you're up and running in one or two clicks.
Use separator sheets or barcodes, or apply keyword rules (such as invoice or account number) and the software will automatically separate multi-page files, keeping same with same, and different with different.
Add a high-volume feeder scanner to the mix, and you literally don't need to be in the room.
Great for Archiving, But Not Usability
Creating a digital copy of important paper documents is nice for archiving purposes when I'm done with something and don't need it again, but a scan is basically just a photo. I need to be able to search, locate, and extract information quickly and easily. This just creates an avalanche of digital noise, and it's like looking for a needle in a haystack.
The reality? The best document capture programs create fully searchable digital copies. You can file them away, but quickly retrieve them by name, or even data appearing within the document itself. OCR (optical character recognition) engines allow you to scan images and PDFs without losing the original layout of the document, but with fully searchable text.
And with speeds up to 1 second per page, and accuracy up to 99%, it'll save you time and headaches.
Only Useful for Paper Documents
Capture software might work well for paper files, but I need something that'll be useful for my digital files, too. I want to be able to sort and classify all my documents.
The reality? In addition to scanning paper documents of all sorts and lengths, capture software can also import digital files directly to your cloud provider. Faxes, emails, attachments, and other digital types can get sent where they need to go. Automatically.
Difficult to Master
It's just too complicated. Who has the time to learn yet another system?
The reality? Document capture software is user-friendly and intuitive. Gone are the days when you needed a degree in computer science to get anything done. And many have a set of default tasks and workflows out of the box. Just click and go.
Still not sure? A top-tier capture program like ccScan can eliminate your lingering doubts and alleviate your fears. Try it today and see just how efficient your document workflow can be.