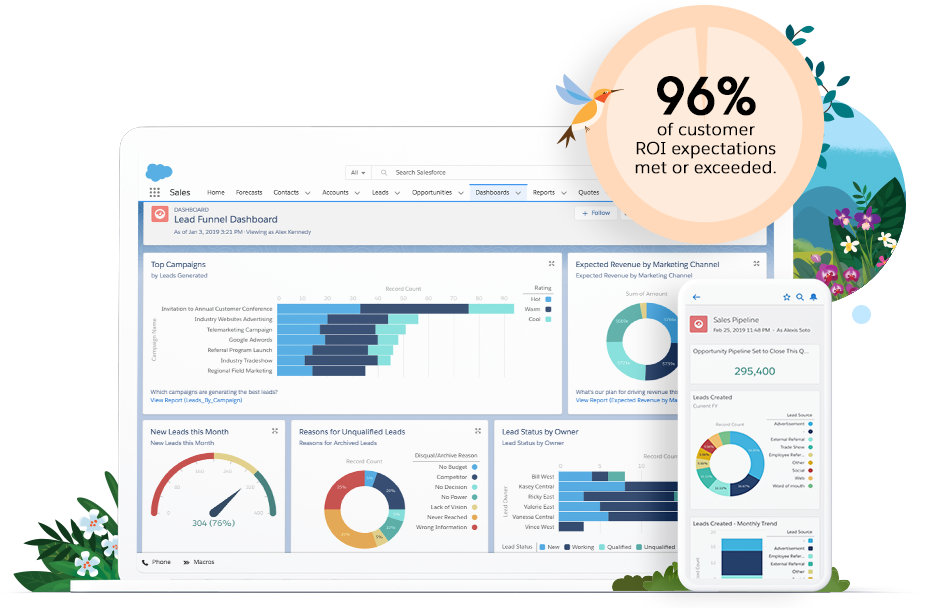 Salesforce is undoubtedly the world's #1 CRM system. It helps you to streamline your day-to-day business operation, increase productivity and maximize your sales efforts. As a Salesforce user, you want to automate every manual process to save you both time and hassle. It's pretty hard not to love a product with 96% of its customers having their ROI expectations exceeded. As a long time Salesforce partner we aim to keep up with those stats and are very close.
Here are some of the key features of Salesforce for those who are still on the fence or are new to the Salesforce eco system.
Customization: The possibilities of customization are immense in Salesforce. It is specifically designed for customization that provides tailored solutions to businesses of any size and scale.
Ease of Use: Once configured properly, Salesforce provides an easy navigation and interface for its end users.
Scalability: Scalability is needed with the growth of your business. Salesforce CRM provides scalable solutions to the growing needs of your business.
Analytics: Users have the functionality to track, analyze and anticipate the whole customer journey. Analytics help in making the key decisions in the progress of your business. It also helps in understanding the user demographics and designing the marketing campaigns accordingly.
AppExchange: It helps businesses to find useful apps to be integrated with their CRM solutions. Salesforce provides access to literally thousands of apps through the AppExchange to boost your sales performance. There are many apps that can help you best collect data, generate leads, and increase the productivity of your sales rep. Storing the documents, business cards, and the client's notes are very important for every sale individual.  You can choose and buy the apps that suit your business's specific needs. Including our 5 star rated one.
Salesforce's main goal is to connect your business better with your customers. A complete sales cycle goes through many stages. Following Salesforce cloud services helps through a successful customer journey.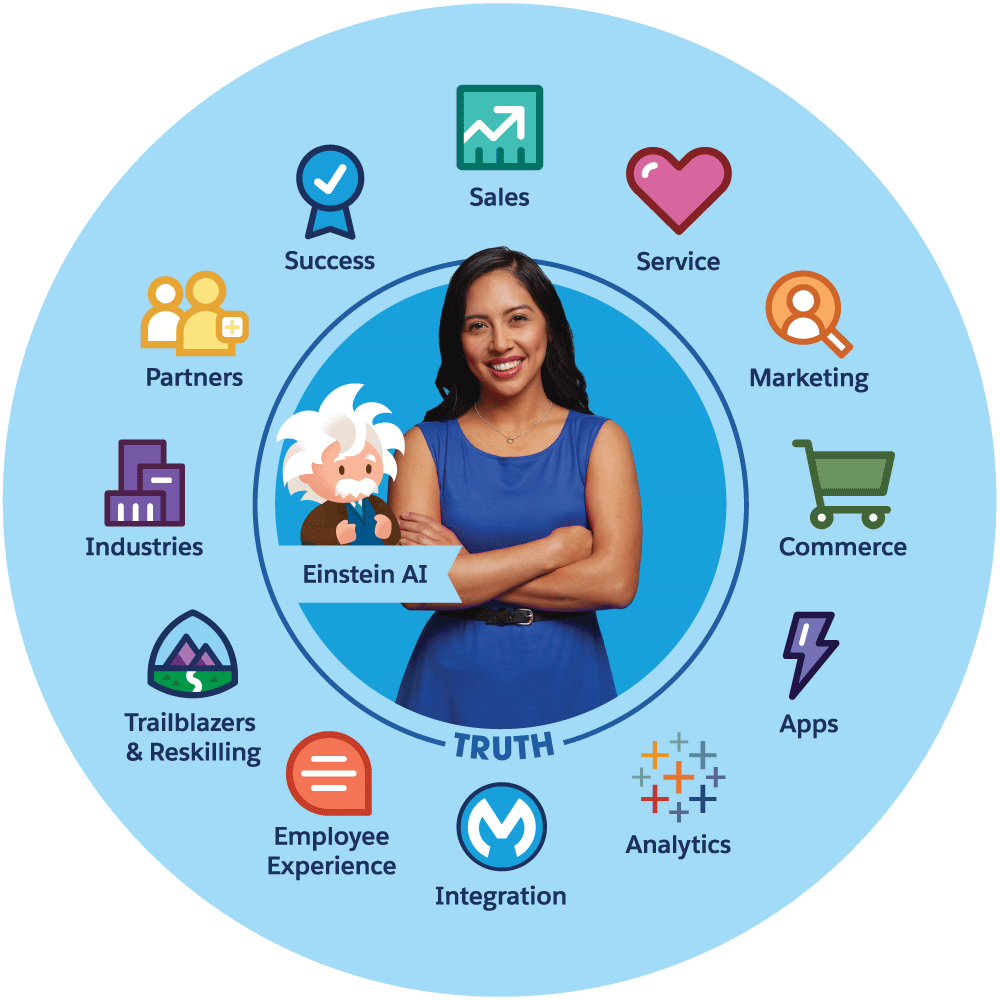 Salesforce Sales Cloud; Helps in automating your sales pipeline
Salesforce Service Cloud; Helps in the aftersales services
Salesforce Marketing Cloud; Helps in customer's targeting & marketing campaigns
Salesforce Analytics Cloud; AI-powered tools to consolidate and analyze the data
Salesforce Commerce Cloud; Specifically designed for the Ecommerce
Salesforce Sales Cloud:
Sales Cloud provides a comprehensive platform for everyone related to the Sales process. It serves everyone including sales managers, sales reps, customer success reps, presales specialists. It takes customer relationship management and interaction to a whole new level to ensure maximum customer satisfaction. Sales Cloud offers a standardized dashboard to analyze the entire sales process, with deep insights into the customer lifecycle.
Sales cloud Einstien offers AI-powered analytics and predictions to help you make an informed decision.  Sales Cloud is completely customizable that gathers all the customer information in an integrated platform that incorporates marketing, lead generation, sales, customer service, and business analytics.
In today's world of digital transformation, everything is getting digitalized, and managing Paper documents is a big hassle when it comes to CRM and automation. Document scanning & uploading is a tedious task, CCScan is a 5 star rated app that lets you scan your documents directly into your Salesforce.
CCScan is an intelligent solution to import, store, classify and automate your documents in the Salesforce. It provides an optimal solution by leveraging the Salesforce document management functionalities and integrating them with all your document management needs. You can easily integrate the CCScan app into your salesforce through the app exchange marketplace.
Salesforce Document Management 
Here is everything you need to know about document management in Salesforce. Salesforce provides five off the shelf modules for document management
Built to store, upload and share documents with multiple users and team members. It allows synchronization of the documents in real-time and used for collaboration within the team.
It is widely used to create, duplicate and work on multiple documents e.g a presentation. Users can share the content internally and deliver it externally. A good use of Salesforce CRM content is to sending a Sales presentation to your potential client.
Salesforce knowledge is used for building a knowledge base and library. These knowledge articles can be used by your own employees in the company. You can also share valuable information with your customers and clients through an external portal using this tool.
These tabs let you save the visualforce docs to access anytime, a good example can be a customized logo that you want to share on multiple proposal documents or company profiles.
Attachments make it easy to attach contracts, files, images, and proposals. It allows you to create attachment lists for particular records.
Document management is equally important for Salesforce administrators, Salesforce consultants, and the end-users.
For Salesforce administrators 
The power of Salesforce lies in its customization, as a Salesforce administrator you can optimize your client's Salesforce with CCscan app to help them with their documents management on Salesforce more efficiently. CCscan is a lightning-ready app that is compatible with Professional, Enterprise, Unlimited, Developer, and Performance Editions. It is an API-only app that is easy to set up with both basic and advanced versions.
For Salesforce Consultants
As a salesforce consultant, your primary goal is to provide the best optimal solution for your clients. Through CCScan, you can provide a smart solution to save time and increase productivity in almost every business. CCScan uses intelligent technologies such as Barcode Detection, Zonal OCR, and text pattern search with Regular Expressions to automate uploading, updating, and creating Standard and Custom records.
For Sales Professionals 
Salespeople can improve their pipeline by automating every manual process during a sales cycle. With an easy-to-use document management app, you can save a lot of time by automating the non-selling tasks and focus more on closing the deal.
Sales Cloud gives you a comprehensive overview of your sales business and insights into sales pipeline, lead conversion, and customer journey. As a sales rep, you have to deal with client notes and business cards in hard copy which is very hard to manage and integrate into your CRM's sales pipeline. With ccScan you can easily scan your paper documents into your Salesforce through Barcode and OCR capabilities. ccScan app automatically classifies the data in a manner that allows you to use database lookup to retrieve key data in Salesforce.
Explore this incredible product and discover how ccScan can facilitate document management to and from Salesforce for both paper and digital documents.